RETRACTABLE MOTORIZED SCREENS
Weather protection is one of the most requested needs by customers. Whether it is to provide shade, block the Sun's UV rays, protect against wind, rain, and winter elements, or to keep your outdoor living area dry and protected, our motorized awnings & screens have the perfect solution for the job.
And when used in conjunction with our sidetrack system, they all provide superior insect protection as well.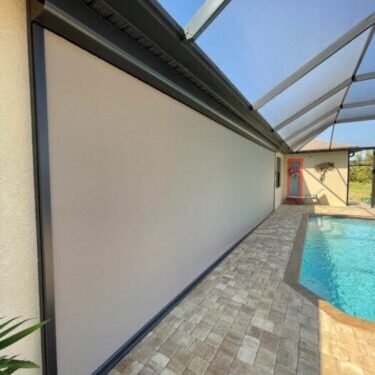 Outdoor Living With Retractable Motorized Awnings & Screens
Do you wish your outdoor spaces provided more protection from the elements without sacrificing the feeling of being outside?
Your lanai experience can be enhanced with a motorized retractable screen. Our screens can be ordered and configured to fit a vast range of needs and use cases. We specialize in screens up to 30' in length.
For a motorized screen, the fabric or mesh is really the star of the show. Depending on the applications, from insect protection to solar protection and privacy needs to full-blown weather protection, we have the right screen for the job.
Questions About Outdoor Living?